Industrial Roller Shutters
Made in Australia by ECO's industrial division, ECO Industrial roller shutter (aka. Commercial Roller Doors) add style while providing exceptional functionality and strength to any building. Manufactured from galvanised G300 Bluescope steel with Z275 zinc coating, ECO Industrial roller shutters are designed and engineered to stand strong against wind, hail and savage storms.
Perfect for all industrial applications from sports facilities and shopping centres to carparks and warehouses, even add them to your architecturally designed warehouse to add a touch of elegance. Constructed using interlocking slats for added strength, we roll form them in house using our Australian made machinery.
Our industrial roller shutters add a touch of class to your commercial premises. Let your imagination run wild when designing roller shutters to fit your building.
SwiFit® Design Studio
MADE BY ECO GARAGE DOORS
Eco Garage Doors is pleased to introduce our SwiFit® Design Studio proudly made by Eco Garage Doors. ECO SwiFit® Design Studio is an industry leading initiative to support the future of design, innovation and manufacturing in Australia. Lead by our in-house engineering department and tested in-house by our R&D team, we ensure all of our released products are SAFE, STRONG & RELIABLE.
Where SwiFit® Design Studio is displayed – our partners, suppliers and customers can be ensured we are committed to the following statement:
ECO Garage Doors remains an Australian Owned and Operated company which focuses on promoting Australian made and supports Australian suppliers
ECO Garage Doors maintains full control and ownership of our Design and Innovations, Intellectual Properties and Patents
All Design & Innovations are conducted in-house by ECO Engineering Division with our encompassing focus on Industrial Design, Swift and Easy Fit methodologies
All Products are Tested in Australia to regulatory requirements and Australian Standards
SwiFit® AU Patient Appln No. 2021221530. SwiFit® is a registered trademark of Eco Garage Doors Pty Ltd.
ECO HD Industrial Electric Opener
For added convenience, add an ECO HDS Industrial Electric Opener to operate your Industrial Roller Shutter. Choose from single or three-phase motors depending on your power supply. With travel electronic limit switches and an emergency hand chain for use when the power fails, you can rely on ECO Industrial Roller Shutters.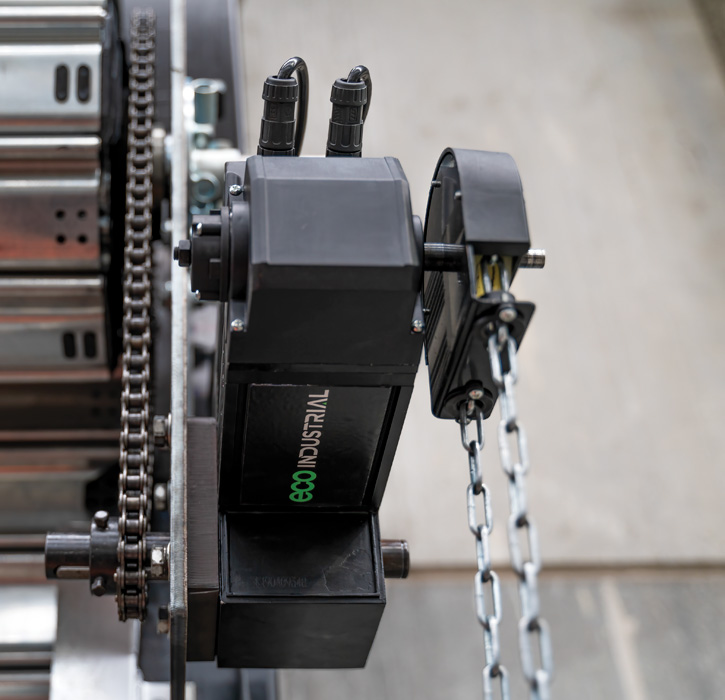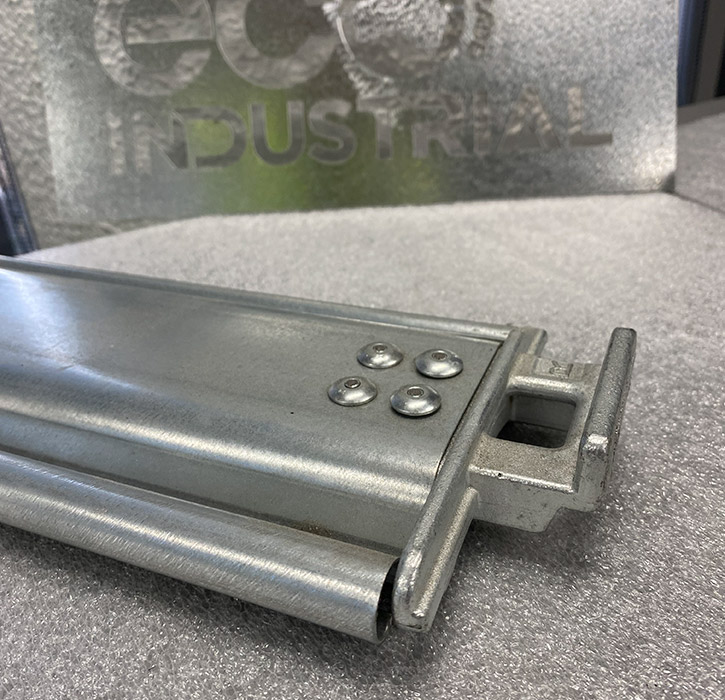 Wind-lock end clips and guides
Moulded nylon end clips ensure smooth, low friction operation, and can be readily replaced if damaged or worn.Standard nylon end-clips are fitted to every second slat in all shutters, except wind-locked models. For areas subject to high wind conditions, or for very wide openings, 75mm or 100mm shutters should be fitted with malleable cast iron wind-lock end-clips and steel wind-lock guides. Wind-lock clips prevent the curtain disengaging from the guides under wind pressure.
We can perforate or pre-punch roller shutters to add ventilation for different applications such as for car parks and canteens. Perforated slats add 30% ventilation and slotted slats have a maximum of 11% ventilation.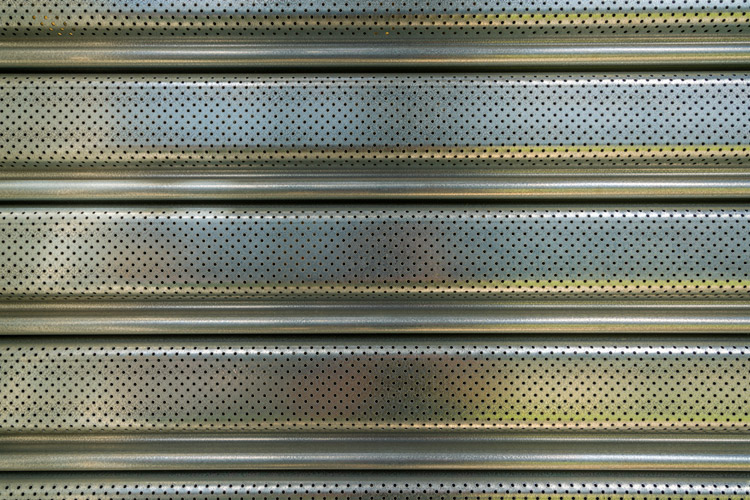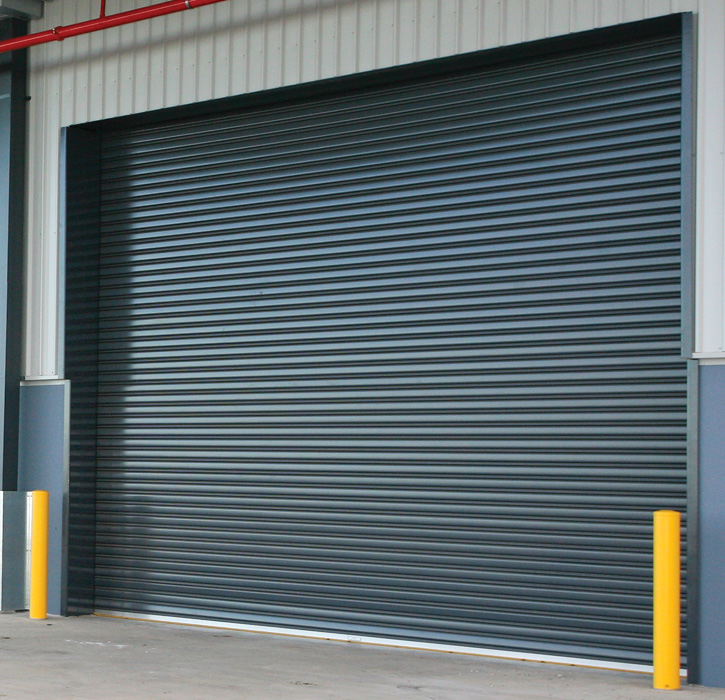 Optional powder coated factory finish with choice of 100's colours. Powder coat is more than twice the thickness of the average paint film and provides a long-wearing and durable finish.
Industrial roller shutters have a special ECO heavy-duty bottom rail made of extruded aluminium to seal against rain, dust and leaves.